Sewer lines are just as important as water lines, yet they don't get nearly the same attention. We understand why: sewer lines are often hidden, making it difficult to know when a clog is forming, or even if there is a more serious problem, such as a cracked or broken sewer pipe, especially over time.
In the following article, we'll discuss everything you need to know about how often should sewer lines be cleaned, regularly scheduled drain line cleaning as a form of preventative maintenance to prevent clogs and prevent expensive flooding damage, including the following topics:
Did you know sewer lines need to be cleaned regularly?
No surprise, sewer lines get dirty. With regular and typical use, sewer lines get filled with grease, tree roots find they're way in, or sometimes sewer lines break or become damaged as the soil around them shifts. Frequently clogged drains from cracked sewer lines are a common problem. When this happens, there are sometimes obvious warning signs.
Warning signs you need your sewer line cleaned
Raw sewage backing up into your drain, toilet or bathtub

Gurgling sounds coming from pipes

Water around the floor drain in the basement

Water backing up in your shower or bathtub when using the washing machine.

Recurring clogs.

Multiple drains clogged simultaneously.

Slow drains, or drains that frequently clog.

Sewer odors, or the smell of sewage.

Stained foundation from water or excess moisture.
Common causes of clogged sewer lines
Grease
sewer line CLOGGED BY grease.
Accumulated grease deposits is a common cause of clogged sewer lines. Many homeowners casually pour used cooking grease down their kitchen drains. This is one of the worst things you can do to your sewer pipes. Even if you pour the grease down the drain with hot water, the grease will eventually cool and harden as it travels down the line, causing blockages.
Bellied Pipes
A pipe that has sagged, or slopes incorrectly, is described as bellied. Bellied pipes are usually caused by changes in the soil around the pipe, possibly becoming loose, or eroding away. Over time, the sag in a bellied pipe causes waste to slow, collect and form blockages. Proper inspection equipment, such as a sewer line inspection camera, can identify if your underground sewer pipes have bellied.
Broken pipes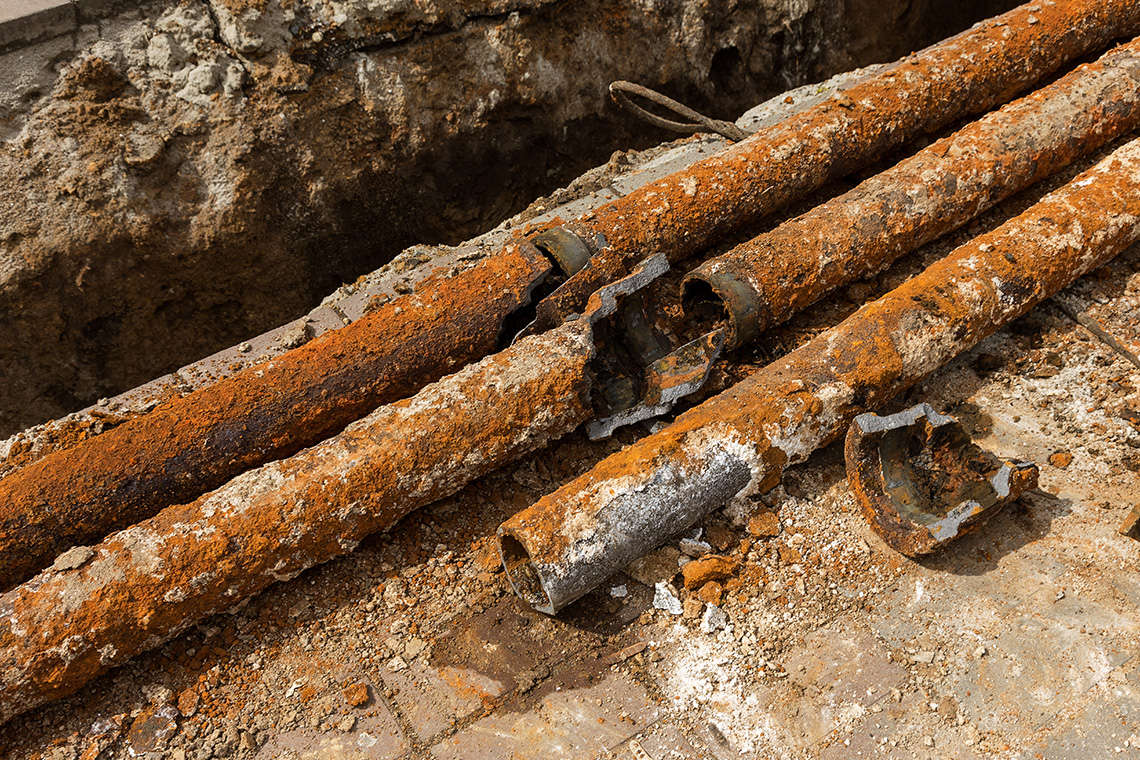 Cast Iron Pipes are vulnerable to corrosion and eventually break
Changes in soil can sometimes cause so much stress on pipes, they may not simply bend, they may crack or outright break. Cast iron pipes break down over time and need to be replaced before 75 years, as they lose their structural integrity due to corrosion from water and oxygen flowing through them. Clay pipes are impervious to corrosion, however they're very brittle, are easily broken by impact damage, and often fail at their joints.
Tree roots
Tree roots commonly infiltrate clay sewer lines at joints
In our many encounters with clogged sewer lines, we've found the most common cause of clogged drains is tree roots. They only need the smallest of openings to infiltrate a line. Once inside a sewer line, tree roots grow and widen. Over time, tree roots will eventually break the pipe and clog it completely. Tree roots are a serious concern for sewer lines, as they will eventually cause that sewer line to completely fail if they are not regularly trimmed back.
Serious concerns with problematic sewer lines
It may be a surprise to some, but not all homeowners insurance covers sewer lines. Specifically, the line connecting the fixtures in the house to the municipal sewer line is often not covered because it is outside of the home/building itself. This means, it's especially critical for homeowners and property owners to maintain their sewer lines, and prevent problems before they occur.
Slow or backed up drains can be a serious concern. In addition to the inconvenience of interruption of service in your home, as well the increased cost of emergency service calls, problematic sewer lines can contribute to expensive property damage. Backed up drains can lead to flooding damage, and costly cleanup efforts afterward.
Solutions to slow drains and clogged sewers
A sewer auger, often called a plumber snake or sewer snake, is a machine with a rotating spiral head. Clearing a sewer line with an augur, commonly called cabling, involves feeding the head, attached to a long cable, down the line. The mechanical rotation of the head moves obstructions. The auger head also has teeth sharp enough to cut through tree roots, and break up other forms of debris.
A hydro jetter uses the power of 4,000 psi of water pressure to burst through the toughest of blockages. Unlike mechanical augers, hydro jetting heads scour the full diameter of the sewer line, flushing all debris out, and leaving the sewer line completely cleared.
Sewer line video camera inspections have become one of the most valuable tools in the plumbing business. Specially made fiber optic cameras allow for a visual inspection of underground lines, to determine the exact condition of the inside of the pipe. A flexible rod with a high-resolution color video camera on its tip is inserted into the pipe for inspection. Radio transmitters on the camera record the depth and physical location from the surface, so that defects and obstructions can be pinpointed, and corrected cost effectively.
How often should sewer lines be cleared?
As a good preventative measure, we recommend to most homeowners that they clean sewer lines every year. Yearly sewer line cleaning can be scheduled in advance. This allows homeowners and property owners to be proactive, and prevent problems in a cost effective way, rather than to be reactive, and respond to problems with expensive emergency plumbing service calls.
What to expect on a sewer line cleaning service call
A regular, scheduled, sewer line cleaning, maintenance service call should take about one half hour to complete, from start to finish.
Anything more severe than a routine, maintenance cleaning could potentially take many hours, especially if the sewer line needs to be replaced.
If a line is severely clogged, and attempts to clear the line are unsuccessful, a sewer camera line inspection may be necessary to identify the exact problem, before a solution can even be recommended.
How to select a good sewer cleaning service
Sewer camera inspections are standard
One of the most important reasons to choose one sewer cleaning service over another, is if they offer sewer video camera inspections as a standard service. A professional company that can offer video inspections of your sewer lines is a company that won't try to deceive you, or insist on costly repairs that may not be necessary. Offering these kinds of inspections should be standard procedure for any legitimate plumbing or rooting company. Look for companies that readily offer sewer line camera inspections as part of their services offered.
Warranties on sewer line cleaning
Another important consideration is whether a company warranties their drain cleaning. A sewer cleaning service that offers a warranty on cleaned sewer line is a company that has confidence in their work. Try to find a company that guarantees quality plumbing and rooting in the form of warranties.
High performance equipment
Not all augers and drain cleaning solutions are the same. For the best results, the best drain cleaning equipment is necessary. Unlike their more common cousins, more expensive, bigger, and more powerful augers use 11/16th inch cabling. These bigger auger cables deliver the power necessary to clear sewer lines. Hydro jetters also offer unrivaled performance in fully clearing sewer lines. Make sure your sewer cleaning service uses the proper drain cleaning equipment to get the job done right.
Same day service, and emergency plumbing response
Regularly scheduled sewer cleaning is much more cost effective. However, in the event of a plumbing emergency, it's also important to work with a company that can handle emergency plumbing calls, and same day service. Not all plumbing companies are open and available 24 hours a day, 7 days a week.
After hours rates, or additional fees for emergency calls are common, so to avoid paying more for the same service, schedule your sewer cleaning in advance, before problems arise.
Up front pricing, and no surprise charges
Not all plumbing and rooting companies are comfortable with published plumbing service prices on the web (we do, check out our price sheet here). However, any reputable company should at least provide free estimates up front on request. A roaming fee to provide service outside of a service area is common, as well as over-time rates during emergency service hours, but otherwise, there should be no additional, nor undisclosed fees for routine drain cleaning.
Our drain cleaning warranties*
3-4" Lines
60 day warranty for cabled lines.

90 day warranty for hydro jetted lines.
2" Lines
30 day warranty for cabled lines.

60 day warranty for hydro jetted lines.
*Roof vents are not warrantied.
Call us anytime you need
If you live in the San Gabriel area or areas nearby, and you're seeing signs of a slow or clogged drain, give us a call and we'll schedule a sewer cleaning maintenance with one of our expert plumbing technicians: