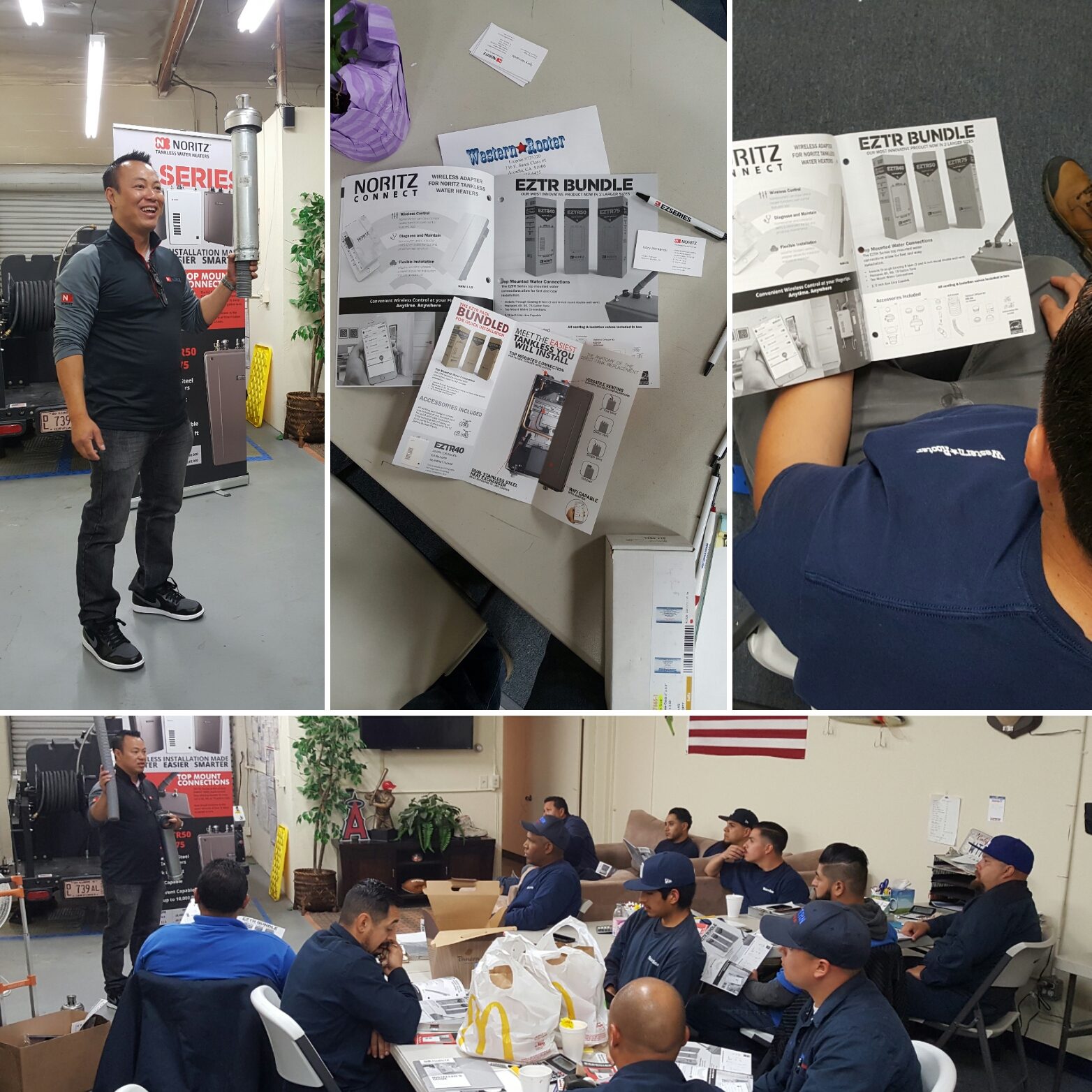 Our team spent time with a Gary Hernando going over tankless hot water heaters from Noritz today, as part of our Spring Time Training. They wanted to show us their new tankless water heater series, the EZTR Bundle, which provides an easy and seamless replacement for a conventional hot water heater.
Good timing as well, because as tax season is coming to a close, some of our customers have asked us about replacing their leaky old hot water heaters. It seems some of our customers are considering investing their tax returns into a new tankless hot water heater. We figured you'd like to consider some of the advantages of investing in a new tankless water heater.
We're happy to talk about Noritz, not just because of their cutting edge plumbing technology, but also because theirs really stand out among tankless hot water heaters. We've worked with a number of tankless water heaters, and our experienced plumbers seem to all agree, Noritz is much preferred, for multiple reasons. Over the year's we've come to expect a quality of service, and attention to detail which makes reveals itself in unmatched durability and performance.
The new EZ, and upcoming EZTR series, of tankless heaters from Noritz look really promising! They're designed to easily replace conventional hot water heaters. In particular, they make installation simple because they come with all the parts necessary to hook up to existing water lines and exhaust vents. This factor, alone, is a bit of a game changer in the tankless heater world, and allows us to pass significant savings onto our customers.
Noritz is so confident in their stainless steel heat exchangers, they back them with a 12 year warranty! They also have an additional 5 year warranty on all other parts. They also offer a wireless adapter, which connects to your water heater, and enables home owners to have full control over heater functions, as well as diagnose and maintain the unit.
Their EZ and NCR series' are Energy Star compliant as well, which means, your gas company should give you a $200 rebate for installing a new tankless water heater. For apartment buildings, and multi-unit structures, that rebate jumps up to $400 for each new tankless hot water heater installed!
If you'd like to talk to one of our master plumbers, or if you're curious about estimates for new tankless water heaters, please feel free to give us a call:
Call us at: 626.448.6455
(we offer free estimates)