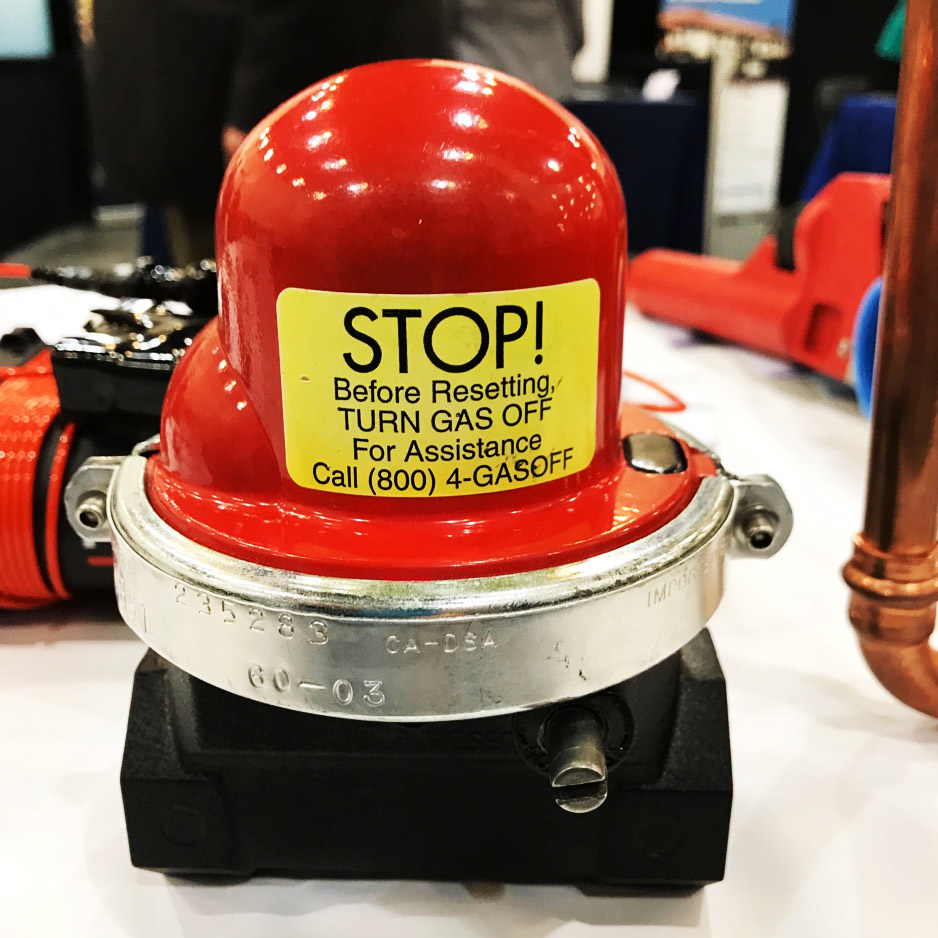 After sharing a recent article published by the OC Register, describing the chances of a major earthquake in Southern California, we've noticed increased interest about Earthquake Gas Shut Off Valves. Living near the San Andreas fault line, we're long overdue for a big earthquake. Perhaps it's the change from warm springtime air after a particularly wet winter, maybe many people sense this could be earthquake weather, but more of our customers have been asking questions about these devices, so we figured we'd take a moment, and address some common questions.
What is an Earthquake Gas Shut Off Valve, and why should I consider installing one?
Intended to close a gas line in the event of an earthquake, these devices prevent gas flow into a structure where earthquake damage may have occurred. This greatly reduces potential risk of explosion, or fire, if a gas line is broken, or if a gas supply is flowing in an uncontrolled way after a major seismic event.
You can read more about Earthquake Gas Shut Off Valves here, where we describe the specific functional mechanics of the valves, and the valve manufacturers whose products we endorse, and use for our clients.
If you suspect that you may have a gas leak somewhere in your home, then contact us about gas leak inspections. We are certified leak detection specialists and can help identify any gas leaks in your home.
Do I need an Emergency Earthquake Shut Off Valve?
In some municipalities, an Earthquake shut off valve for a gas line is legally required, but this is not always the case for every property. Some municipalities have grandfather laws which except older structures. If a valve is not legally required, we must still recommend you have one installed.
In the event of major seismic activity, a gas line can still be shut off manually. Manual shut off valves are usually installed where the gas supply line attaches to the main line of a property. An automatic shut off valve does not replace the manual shut off valves at gas line mains. However, these devices can and do prevent potential disasters if someone isn't immediately present, and able to manually shut off a gas line.
Can installing a Emergency Earthquake Gas Shut Off Valve save me money on Earthquake Insurance?
Sometimes, yes, by as much as 5% or more, depending on your insurance company!
Living in Southern California means that acquiring Earthquake Insurance to protect your property is a prudent choice, and sometimes required. Many insurance providers are happy to see these automatic gas line shut off devices installed, because they are effective at saving property, and lives.
Speak to your insurance broker, and ask them how much of a savings you can expect if you install one of these disaster preventing devices.
How much does it cost to install?
Right now, we're offering installation of a single valve for $345, however we also offer discounts for multiple installations! Home Owners Associations and Apartment Complex owners will likely want to take advantage of our multiple installation discounts.
How soon can I have a Earthquake Shut Off Valve installed?
If you're ready to have a valve installed, just give us a call, and we'll schedule an appointment!
Don't wait until the next disaster, give us a call now: (626) 448-6455